Wright Tech seniors have big post-grad plans shows survey
One quarter going straight to local trade jobs
Stamford, CT; June 2, 2022 – A majority of J.M. Wright Technical High School's seniors will extend their learning at a mix of private, public, and community colleges after the June 20, 2022 graduation ceremony, which will be officiated by U.S. Rep. Jim Himes (CT-04) and attended by Connecticut Technical Education and Career System Interim Superintendent Dr. Ellen Solek.
Another 25% will move right from high school into a trade with some already having secured full-time jobs. Graduating seniors Dominik Merdita of Darien and Joshua Arce plan to start work as plumbers and accumulate the number of hours needed for state licensure.
Senior Cyrus Casino, a new carpenter, will be receiving a promotion and a pay raise from his new employer.
"I'm graduating school with a year of job experience already, a job promotion, and a pay raise from Fletcher Development. [I will be] working full time, 6 days a week, " wrote Casino, who added an interest in starting his own side business related to home repairs and lawn work.
Steven Mejia, an Auto student, will continue a job he picked up while going to Wright Tech in the City of Stamford Fleet Maintenance Department. Others, such as Electrical student Jagger Aikler of Norwalk plan to work in the family business, Aikler Paving Company in Stamford.
The Class of 2022 survey revealed 42 of the 116 seniors will attend a 4-year college or university; 80% of the class participated in the senior survey.
This spring Wright Tech students received acceptances from the following schools: Albertus Magnus, Bethel, Boston University, Brigham Young, Culinary Institute of America, University of Bridgeport, Eastern Connecticut, Florida State University, Franklin Pierce, Iona, Johnson & Wales, Mercy, North Carolina A&T, Quinnipiac, Sacred Heart, Southern Connecticut, University of New Haven, and Western Connecticut. The University of Connecticut accepted 13 students at their Stamford and Storrs campuses.
Approximately one-third of these students received scholarships for part or all of their post-secondary education.
In the survey, seniors also reported that their Wright Tech trade experience led them to a clearer path of study over the next 4 years.
Daniel Portillo, who recently earned a Silver medal at state-wide SkillsUSA competition for Television Video Production, will pursue sound engineering at Mercy College. Portillo, an aspiring musician, has performed at school functions as "Danny P." and plans to continue to create music and post on Spotify, Instagram, Apple Music, TikTok, Youtube, and Pandora.
Health Tech student Ashley Roche wrote about her long-term ambitions. "I am attending Albertus Magnus College in New Haven with the prospective idea that I will major in Pre-Med so I can become a doctor in the future," she wrote.
Catherine Lopez, an Electrical trade student, plans to extend her learning to study electrical engineering at UB. And although Eva Kenny may work in the culinary industry temporarily, she plans to explore other fields while she attends "UCONN (Storrs) in the fall to study Mechanical Engineering."
About a quarter of graduating seniors reported they plan to balance a full-time job and attending community college. Most students in this category will attend Norwalk Community College (NCC) and expressed an interest in extending their trade learning.
Jordalin Monegro of Fairfield, a Health Tech student, plans to attend NCC and become a Certified Nurse Assistant before going on to be a Registered Nurse. Lisandra Luna plans to start out at NCC before transferring to a university as a Pre-Med major.
Michael Lopez, an Auto student, will attend Gateway Community College and pursue a career in the automotive industry. Culinary student Kevin Ramirez will continue to work at a French restaurant and catering company after graduation, then "juggle all that" with taking classes at the local community college in the Fall. Angel Vargas will work full-time and study criminal justice at NCC at night.
Anthony Olmo of Norwalk, who co-authored the science fiction and fantasy book The Dauntless Chronicles, has been exploring writing a sequel to the Amazon Best Seller after graduation. Right now, Olmo, like a handful of other students, plans to "take a gap year" and figure out next steps.
Rounding out the class, two seniors enlisted in the military, while others expressed interest in joining as a possible option. Kaarlo Serrano of Westport, an Auto Trade student, will be leaving for basic training in the U.S. Army shortly after graduation and hopes to use his skills on military equipment. Dominic Pirone of Darien, an electrical student, will be leaving in August as a member of the U.S. Marine Corp.
Over the summer, Pirone's plans are straightforward.
"Train physically and have some fun before my ship date August 15," Pirone wrote.
Hire Us for Your Next Project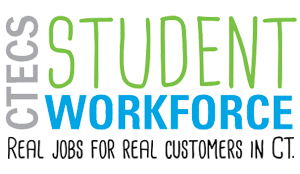 Student Workforce is a business run by students and faculty at the CTECS.