Three trades take honors at state SkillsUSA competition
Freshman Edward Demarkey, Stamford's Chili Cook-off King - takes Gold
Wright Tech took home several honors, including a gold medal, following the SkillsUSA ceremony held in late March at Southern Connecticut State University in New Haven.
The students competed against high schools across the state in a variety of trade and career-related competitions and contests. SkillsUSA "is a partnership of students, teachers and industry working together to ensure America has a skilled workforce. SkillsUSA serves middle-school, high-school and college/postsecondary students preparing for careers in trade, technical and skilled service occupations," according to the SkillsUSA website.
The winners for Wright Tech were:
Edward DeMarkey, Freshman Demonstration (Culinary), Gold Medalist
Brandon Espinosa and Daniel Portillo, Television Video Production, Silver medalists
Sabrina Lupi and Kevin Ortiz, Television Video Production, 6th Place
Jake Verduzco, Electrical Construction Wiring, 4th Place
Fran Martinez-Bove, Culinary Arts Department Head, was thrilled with her student's win in the Freshman Demonstration competition. DeMarkey showed his prowess at cooking in Fall 2021 after he won the 14th Annual Chili Cook-off. DeMarkey, who created the Really Dilly' Pumpkin Pork Chili with Martinez-Bove, beat out local fire departments and amateur chefs to take the trophy.
DeMarkey added to his collection of trophies, but will not be heading to national competition. "Unfortunately, there is not a national competition for what Eddie earned first place in," Martinez-Bove said.
The Digital Media Department took two honors for Public Service Announcement (PSAs) videos created for non-profit organizations.
"Danny and Brandon have encompassed what our program is all about.  They continue to create standout work by focusing on the process from beginning to end," said Jonathan Giraldo, Digital Media Instructor. "Kevin and Sabrina did a great job of bringing their story to life.  They had an idea and executed it utilizing all the skills and tools our trade provides to them."
Rounding out the winners for Wright Tech was Verduzco who also competed virtually in 2021. Verduzco was enthusiastic about his experience, especially since it was in-person this year. His competition was held at the electrical union hall near Southern, while others competed at spaces available in H.C. Wilcox Technical High School in Meriden.
"Every student who is in a technical high school should do this competition. It is a really easy way to show how much you know and it is fun to compete against others in your trade," said Verduzco.
Hire Us for Your Next Project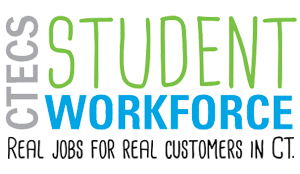 Student Workforce is a business run by students and faculty at the CTECS.