Welcome to J.M. Wright Technical High School.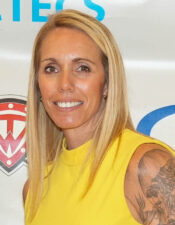 Dr. Jayme Beckham, Principal
Phone: (203) 674-5860
Dear J.M. Wright Parents, Students, Staff and Community Members:
It is my privilege to welcome you to the 2023-2024 school year. I am honored to serve as Wright Tech's principal and excited to further along the great reputation of the CT Technical Education and Career System (CTECS) at one of its most flagship schools – the home of the WARRIORS! This will be my tenth year in the district, and I am looking forward to our partnership in excellence as we strive toward student and family engagement, college and career readiness, social-emotional growth/awareness, and monumental achievement for all our Wright Tech students.
My top priorities are student and staff safety and security, ensuring equity and celebrating diversity, fostering rigorous classroom environments where instruction and assessment prepare students for both college and the workforce, and building collaborative relationships with all stakeholders rooted in trust . I believe all students can learn and achieve at high levels, and that growth cannot be measured the same for all students. At Wright Tech, we will meet students where they are to provide an individualized and differentiated experience to promote success and efficacy for all! Our standards of achievement will be kept high; our expectations will be kept consistent; and our dedication will be kept steadfast.
I look forward to sharing a wonderful school year with all of you! Remember, there is no better way in education than the WARRIOR way!