Connecticut Technical Education and Career System's Culinary Arts course breakdown by grade. Each student is required to complete four years of a Career Technical Education program.
| Grade 9 | Grade 10 | Grade 11 | Grade 12 |
| --- | --- | --- | --- |
| 3 Credits | 3 Credits | 3 Credits | 3 Credits |
| Exploratory and Introduction to Culinary Arts | Basic Food Service | Operating a Restaurant | Advanced Restaurant Operations |
COURSE DESCRIPTIONS*
Successful students completing this program will be able to pursue a post-secondary two- or four-year degree in Culinary Arts, Hospitality or Food Service Management. Upon graduation, students are eligible for immediate employment in an accelerated entry-level culinary position in any food service establishment such as restaurants, casinos, commercial kitchens, catering facilities, retail or commercial bakeries, corporate dining or institutional food service companies.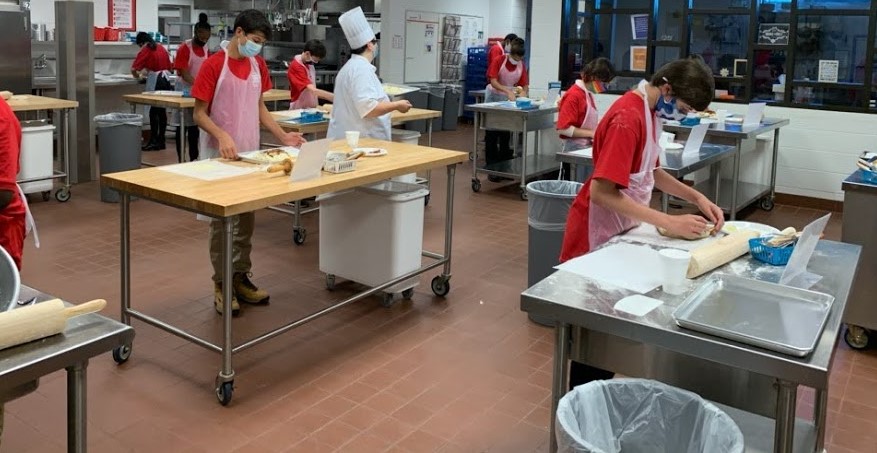 Explore the daily offerings available through the Wright Tech Culinary Arts Department
Check out options for off-site catering and restaurant-style dining
What cooking?
Learn more at the Bridge Street Cafe online hub for catering and menu information
Interested in applying to be a student in the Culinary Arts? Please visit the Wright Tech Culinary Arts website and discover the many reasons to pursue a career in this dynamic and creative field.