School Based Health Center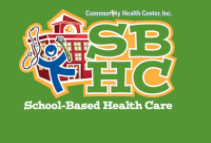 Open to all students! School-Based Health Care is a program of Community Health Center, Inc. (CHC) with a location housed at J.M. Wright Technical High School. CHC is a private, non-profit agency with the mission of providing primary care and social services to all, particularly to those who cannot gain access to such services elsewhere.
For more information, visit the SBHC website or call the location at Wright Tech: 203-674-5779
***As of October 1, 2023, SBHC will have a new billing process for families that have health insurance. The Change in Billing letter outlines the information. For assistance or questions about this notice or billing, please contact the Billing Department at (888) 270-6698.
Contact Information
Covid- 19 Guidance – State of Connecticut
Wright Tech and the other 16 Connecticut Technical High Schools have adopted protocols and procedures to ensure student health and safety during the Covid -19 pandemic. The following is the most current set of guidelines issued by the State of Connecticut. Updated Covid 19 Guidance
Food Allergies Information
According to the CTECS Procedural Plan for Managing Life Threatening Food Allergies (July 1, 2006), it is the responsibility of the parent/guardian to inform the sc