Welcome To Plumbing & Heating!
Students experience hands on learning in our spacious multi-level shop. The shop features a two-story structure with space designed to allow students to install bathroom fixtures, kitchen fixtures, boilers, and other drain and water systems. Visit the
Plumbing
website for the latest news, pictures, and information.
Course Information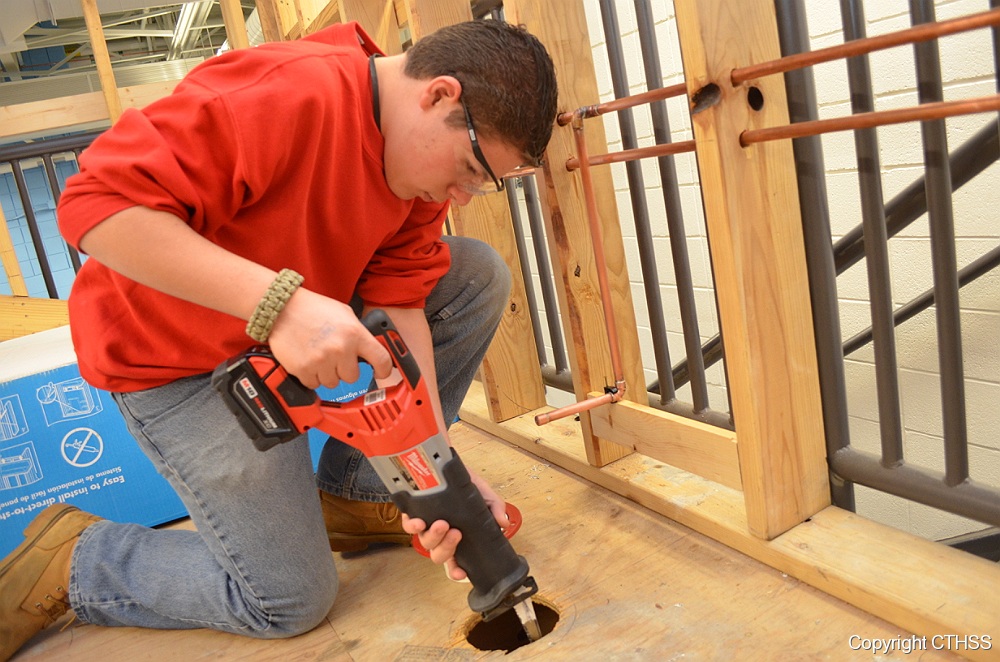 Connecticut Technical Education and Career System's Plumbing and Heating course breakdown by grade. Each student is required to complete four years of a Career Technical Education program.
| Grade 9 | Grade 10 | Grade 11 | Grade 12 |
| --- | --- | --- | --- |
| 3 Credits | 3 Credits | 3 Credits | 3 Credits |
| Exploratory and Introduction to Plumbing and Heating | Residential Plumbing | Residential and Commercial Plumbing | Heating and Residential and Commercial Plumbing |
Course Descriptions*
Students successfully completing this course of study will be able to pursue a two- or a four-year engineering degree. Students can obtain immediate employment in the plumbing and heating field. Employment includes: residential and commercial plumbing and heating apprenticeship, sprinkler-fitters apprenticeship, pipe-fitters apprenticeship, steamfitters apprenticeship, gasfitters apprenticeship, estimators, plumbing and heating service technician, plumbing and heating maintenance, plumbing and heating sales representative and wholesale supply representative.